2018 started with our best feet forward on a walk in early February to celebrate World Wetlands Day, as there are some of these important but diminishing habitats within the catchment. This was followed up with the building of over twenty new homes for birds and bats at a community drop-in workshop and with students from John Ruskin High School.
In the mean time work was also underway to open up some buried becks with de-culverting work and fencing was being installed to protect the becks from ingress by livestock as well reducing sediment inputs and bank erosion. Salmon and trout were given a helping hand with migration up and down the beck from Yew Tree Tarn with the addition of fish easement steps.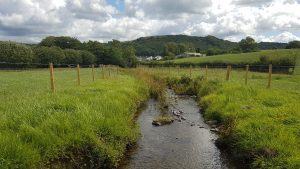 We also held some community river dipping events, showing off some amazing freshwater minibeasts and encouraging people to think about their local becks and the importance of a healthy watercourse system.
Penny Bridge Academy had an afternoon learning about water quality, minibeasts and the effects of plastics and other pollution, led by their fantastic Eco-Group.
Early summer saw the start of the work to reconnect old and new becks at Doll Moss, Water Park and Thurston, though the dry spell that followed made it difficult to see much of the new becks! The prolonged dry spell also took its toll on several becks, leading to fish deaths, however hundreds were rescued  from some tarns and becks. Our Riverfly volunteers and YSI sampling volunteers struggled to find at times both riverflies and water.
Water quality and freshwater minibeasts took centre stage at the three shows at Torver, Coniston and Lowick, where we engaged with many visitors and locals, giving them a chance to see  mayfly nymphs and cased caddis fly larvae up close and make beaded dragonflies. Year 7s from John Ruskin High School also spent a day with us riverfly sampling, and were amazed by how much they found in both Church and Yewdale becks. Fortunately the weather by this time had turned typically summerish – a mixture of sunshine and rain so the becks were filling up again.
The Family Activity Day in August was a great success. Held jointly with The National Trust at Hoathwaite campsite on the shores of Coniston, we had beck dipping, pebble painting, freshwater minibeasts , a salmon run game and the 50 Wild Things to do before you're 11 3/4  from the Trust. Over a hundred adults and children joined in the fun. A community art workshop took place mid-August and produced some lovely watercolours of dragonflies and kingfishers, copies of which will be used on interpretation boards and in a walks leaflet.


August also saw the project deliver the first phase of reedbed restoration, harvesting strong invasive species-free reeds from Leighton Moss and transplanting them to an area at Water Park. Our volunteers worked really well on this physically demanding activity.
Volunteers joined us for some training on an innovative method for cleaning spawning gravels, using suction hoses, pumps and a big blue barrel. It all worked in the end with some modifications and some stretches of Langholme and Greenholme becks looked decidedly cleaner for the river hoovering! Redd Counting training followed on from this as more volunteers learnt how to spot the spawning scrapes (redds) made by salmon and trout and the differences between them. This survey work and mapping will help target the gravel cleaning in future years and monitor the success of some of the work of the project.
The year drew to a close with more nest box making, this time by Penny Bridge Academy's Eco- group and the planting of willow whips along the River Crake, with Year 6 from Penny Bridge Academy and more volunteers.
So briefly we've….. installed/agreed on nearly 9 km of fencing, created almost 22 sq.km of riparian habitats with buffer strips, de-culverted just under 500 m of buried watercourses, opened up 2 km of spawning areas with the installation of a fish easement, involved over 200 students and staff in freshwater activities, made and put up 30 nest boxes, engaged over 650 adults and children at 20+ events, shows, stands, walks and talks. Volunteers have given the equivalent of 173 days of work, cleaned approximately 40 sq.metres of gravel and helped restore and protect 100 sq. metres of reedbed. Phew!
So here's to more of the same in 2019